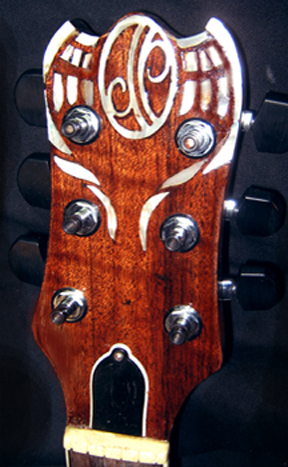 The "Crossroads SG"
I was contacted by the National Guitar Museum in 2013 with the prospect of creating a guitar for display in their museum.

They said they liked the bare, open tree design on my "Punkin Patch" and "Goth" Gibson SG pieces. They agreed to send me a body and neck for the project. "What kind of wood did I like?" I said, "Any good hardwood. Maple, mahogany, ash, alder, oak, poplar, etc. Anything but plywood or basswood."
When the basswood body arrived, I shrugged and began laying out the design, using the tree and landscape minus the goth elements, as seen in the "original sketch" below. I thought a guitar museum would be more interested in the instrument than the spooky stuff. Nope. They loved the spooky stuff.

I had already started the carving so I was at a bit of a loss where to go with it. Then H.P., at the museum, suggested making it a "sell your soul" theme. YEAH! I dig it. So the "crossroads" design emerged. I changed some branches into goblins, put a scull head on the young guitar lady, accompanied her with more spooks, added some sculls and tombstones around the landscape and BINGO! SG stands for "Satanic Guitar"

I made a custom pick guard with the famous "Robert Johnson at the crossroads of Highway 49 & 61" design filagreed with rattlesnakes. THe color is airbrushed, tinted nitro-cellulose lacquer, covered with 4 coats of clear. Scull knobs courtesy of Dread Meister Music. Pickups, tailpiece and bridge by Guitarfetish.com.
Completed May 20, 2013